Look at the UK in 2020, and you'd have noticed a 3 percent decrease from 2019 in laptop penetration in the market.
Look at 2021 however, and you'll see a very different story; rising from 57 percent in 2020 to 76 percent in 2021. According to Statista, that's the highest adoption rate in over a decade.
As you might expect, much of this new demand for laptop devices can be attributed to the ongoing COVID-19 pandemic, but when it comes to education, the usage of devices at home for learning isn't a recent occurrence.
In 2015, 95% of US children aged 3-18 reported having a PC at home, with 80 percent of 8th-grade students using their devices for schoolwork on a weekday.
After a year or so of learning both in and out of the classroom, students ranging from young learners all the way to university level are truly embracing the flexibility that digital learning enables.
But what are students really looking for in their notebook devices? What features and components mean the most? The following five attributes are the key.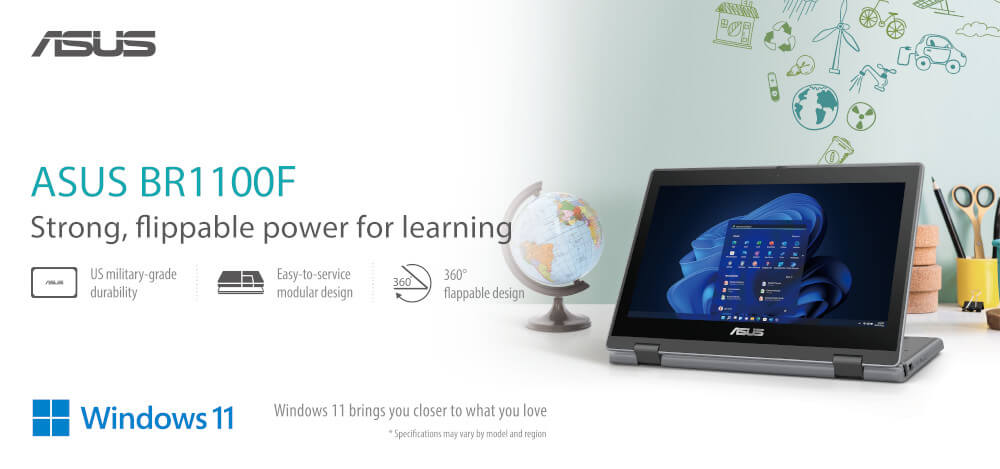 Battery life
Learning isn't always done near a power outlet, which is why battery life is commonly one of the most sought-after features in a device designed for learning. This rings particularly true when notebooks are being used away from the classroom.
Students are often bringing their learning from the classroom to the home and back again.
Outside of processor and memory considerations, battery life is the third most important aspect of buying a laptop, according to 91mobile's survey of 8,000+ customers in 2020.
ASUS devices like the ASUS BR1100C and BR1100F are ready for all-day learning, offering up to 10 hours of battery life on a single charge, ensuring uninterrupted study throughout the school day and beyond.
Performance
Performance is more than just about the hardware inside a notebook; it's also the software and experience when using the device. Fortunately for students using devices like the ASUS BR1100F and BR1100C, they enjoy the best of both.
With powerful Intel processors, up to 16GB of DDR4 memory, a range of I/O for connecting external storage, monitors, and more, hardware output is covered.
When it comes to software, students will enjoy the performance Windows 10 Pro delivers, with a free upgrade to Windows 11 (Products certified by the Federal Communications Commission and Industry Canada will be distributed in the United States and Canada. Please visit the ASUS USA and ASUS Canada websites for information about locally available products).
Built for learning, anywhere, Windows 11 helps deliver safe, high-quality learning at school and online. Along with its comprehensive security and privacy, and out-of-the-box accessibility tools for students of all abilities, Windows 11 is the perfect platform for students to succeed.
Touchscreen/Versatility
Younger students are used to interacting with devices directly, having grown up with touch-screen devices like smartphones and tablet devices.
According to Statista, in 2019 86% of 8-11-year-olds owned a smartphone or tablet device, while 97% of 12-15-year-olds owned such a device.
It's this shift that makes laptops like the ASUS BR1100F such a promising offer, delivering a level of flexibility not commonly found in learning-first devices.
The unique hinge enables the ASUS BR1100F's touchscreen to flip 360 degrees from its traditional laptop configuration, to a tablet-like setup with an accompanying stylus that today's students will be comfortable with, opening up new ways of learning and interacting with their studies.
Rugged protection
When it comes to a device like the ASUS BR1100F, you'd expect its touchscreen and 360-degree hinge design to reduce the level of protection available.
It may surprise you to learn then that it's graded for MIL-STD 810H military-grade protection, protected from 1.2m drops from multiple sides, has a long-lasting hinge, and both the lid and bottom of the device are rated for 28kg of pressure without damage.
Young learners can often forget how sensitive modern devices can be; with devices like the ASUS BR1100F and BR1100C, there's no need to worry. Ready for some of the most rugged treatment, these devices can power students through the school day.
As education evolves, ensure your opportunity for digital learning evolves with it. Whether you're an education centre looking to enhance your digital learning offering to students, or a student looking to take your own learning further, look to ASUS for the solution.
Discover