At Nomow, we are excited to introduce Pure Play artificial grass. Pure Play is a safe, fun and vibrant artificial grass that uses the ground-breaking new material PURETi which acts as a photo catalyst and has been scientifically proven to destroy viruses and bacteria.
Pure Play can really help your school in combating the spread of germs and helping to create a cleaner educational environment.
The PURETi built into the grass reacts with sunlight, and through a complex chain reaction creates compounds that actively destroy viruses and bacteria. And because PURETi is using sunlight as the source of energy, the active ingredients don't need to be replenished.
So the artificial grass doesn't require constant chemicals for cleaning, as it is self-sterilizing. Not only does this make the school environment cleaner, but it also reduces contact between children and harmful disinfectant chemicals.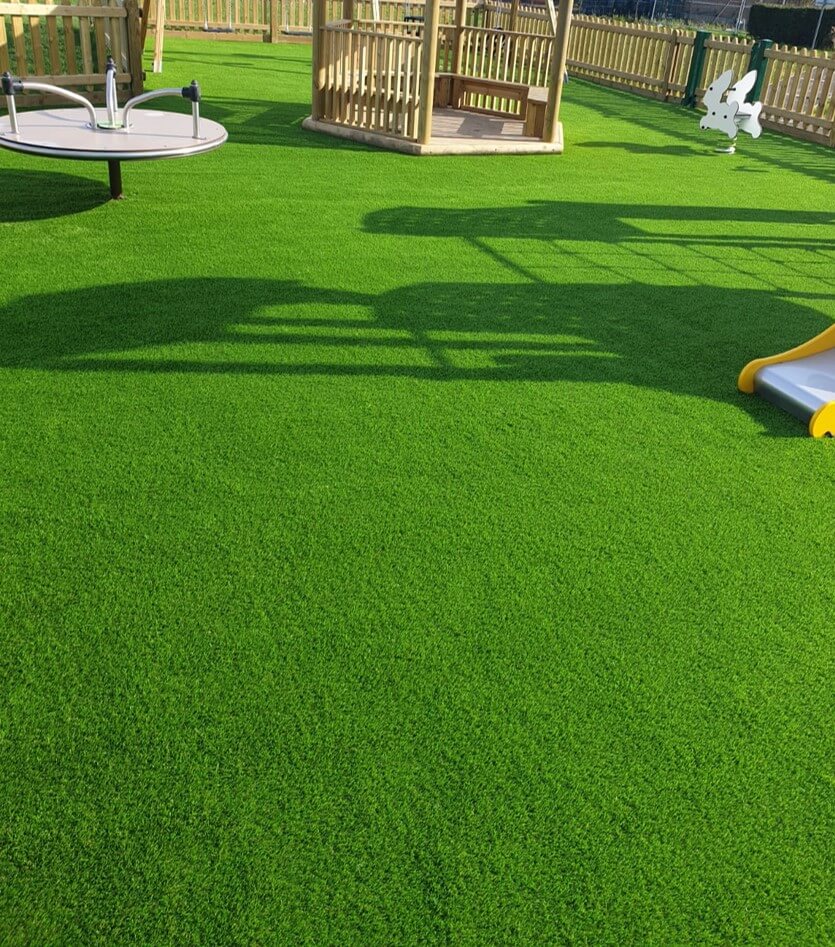 The PURETi in Pure Play is a safe and innovative substance with lasting effectiveness that has had recognition and support from a number of high profile organisations including; NASA, the European iSCAPE project and the Katerva Award for Sustainability.
In addition to Pure Play's cleaning properties, it is even able to simultaneously break down air pollution. Pure Play turns pollutants such as Volatile Organic Compounds (VOCs) and Nitrogen Oxides (NOx) into harmless substances.
Pure Play is so efficient at doing this that 1 square metre of Pure Play is able to clean as much air as an entire tree. This means that 1 football pitch of Pure Play is equivalent to a 20 hectare forest located in the middle of a city.
"We are extremely excited about this new product. It's a real game changer for the industry. The additional benefits that this artificial grass brings with it are truly remarkable," says Chris Suter, Commercial Director at Nomow.
"The virus destroying properties alone are enough to make this artificial grass exceptional. In the current climate, huge emphasis is being place on organisations and schools to act responsibly to reduce the impact of the pandemic, and Pure Play can help.
"But in addition to this, the product's sustainability and air cleaning abilities make it perfect especially for urban areas. Importantly, we are proud that we have been able to do all this, without sacrificing any element of quality in the actual artificial grass."
Pure Play is an excellent choice for your next artificial grass installation. Structurally, it is very similar to one of our most popular artificial grasses Pro Play, which we have already installed in thousands of schools up and down the country.
The new Pure Play artificial grass takes this product and gives it the phenomenal added abilities of destroying viruses and bacterial whilst also purifying air pollution.
To find out more about Pure Play and its amazing abilities, visit nomow.co.uk or email us at sales@nomow.co.uk and we can send you supporting literature, or call us on 0808 501 7092 and we'd be happy to discuss Pure Play with you and answer any questions.