Last March, just as the UK was emerging from lockdown, the UNBOXED Learning Programme embarked on a mission – to engage millions of young people in combining STEM and the arts to imagine more positive futures for us all.
The Learning Programme, available to all primary schools across England, Northern Ireland, Scotland and Wales, is part of UNBOXED: Creativity in the UK – 10 projects bringing together scientists, technicians, engineers, mathematicians and artists in creative collaboration.
Throughout the course of the year, 1.7 million young people took part as UNBOXED Learning toured the country in a roadshow, delivered in-person workshops, created online learning experiences and gave them the opportunity to visit an UNBOXED project.
Unique learning experiences
Each learning experience is designed to engage young people in immersive, real-world learning, open their minds to careers combining STEM and the arts, and inspire them in using their creativity to affect more positive futures.
Adel Al-Salloum, who heads up the UNBOXED Learning Programme, said: "The learning programme presented inspired and inquiry-driven opportunities to unlock learning, fuel curiosity and develop new skills in relation to STEM and the arts. It's been a joy to witness what happens when young people have the space to engage creatively with real-world experiences."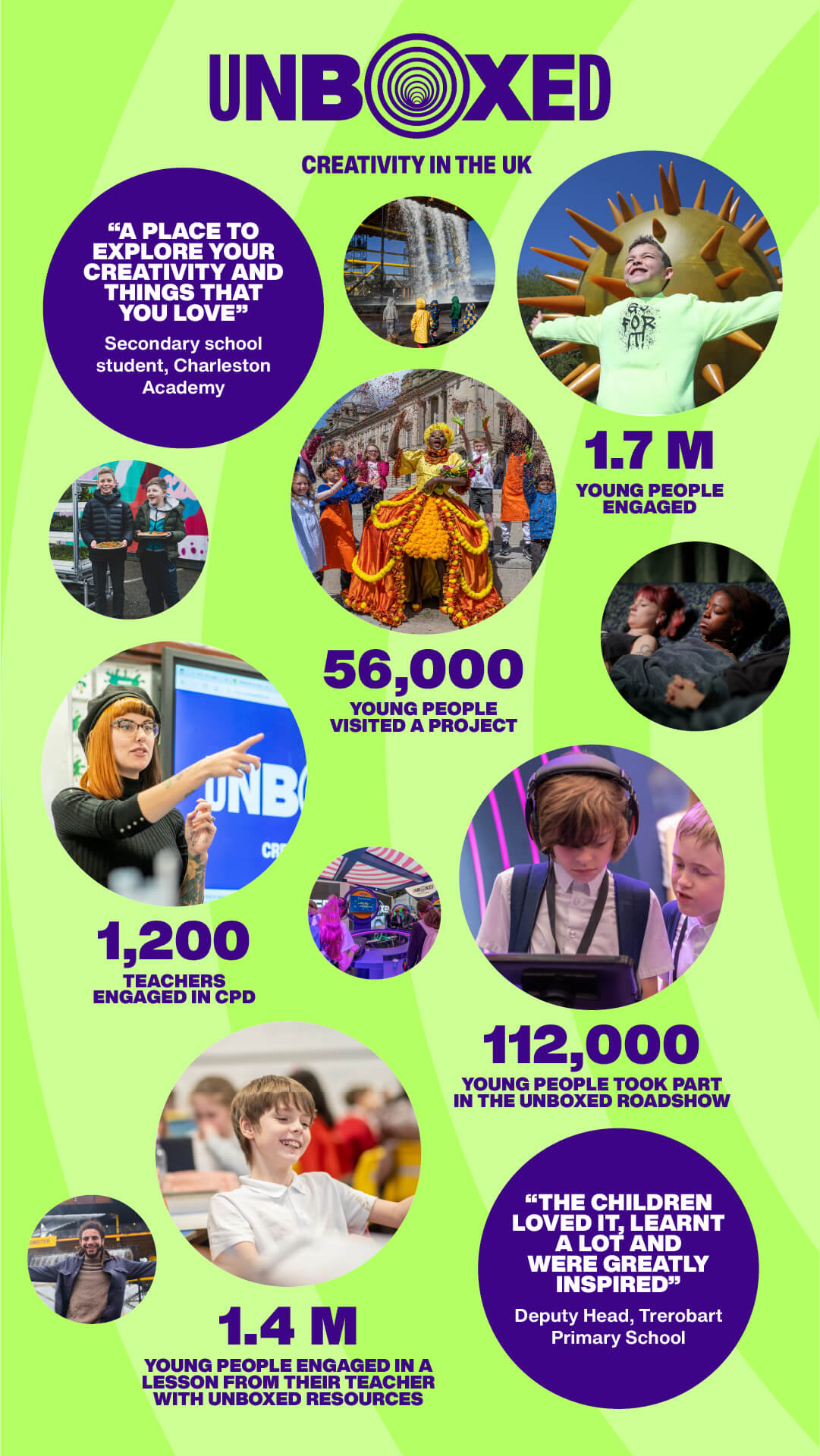 Here are some of the highlights from the 10 projects:
One particularly innovative project is Dreamachine's Life's Big Questions, an interactive series of five questions that can be answered by classes in one part of the UK and compared to the answers of classes in other parts.
These intriguing questions – including 'Can I believe everything I see?', 'How do I know time is passing?' and 'Are people the same all over the world?' – explore how the brain and senses work together to help you understand the world.
Teachers can find Life's Big Questions and other resources at Dreamachine schools.
---
TEACHER'S VIEW: Sarah Jenkins, Year 4 teacher and expressive arts and eco lead, Raglan Primary School

"We champion opportunities for our pupils to learn in creative environments. The UNBOXED Learning Programme's learning resources allowed us to delve into key topics such as climate change and allow our pupils to sit back and understand what it means for them while still allowing them to express their creativity.
"It's an ideal combination of taking a real-life issue and considering how creativity can be a solution to the problem at hand – the kids loved it."
---
Primary school teachers across the UK can find the full suite of UNBOXED Learning resources, perfect for inspiring pupils on the power of combining STEM and the Arts, at Tes Teaching Resources or by searching for "UNBOXED Learning" on TES.