HM: What are you hoping to get out of this year's Schools & Academies Show?
IH: We're exhibiting again, because we found when we first came, in 2019, that we really got to talk to people who could inform us about what was really going on in their world of education. We believe we have products and solutions, but we're necessarily looking at it from an external perspective.
Ultimately, getting that authentic insight about the world we sell into, is invaluable to us.
Does that understanding influence the evolution of the product, then?
Well, it's not so much that the range evolves; rather, it's the applications that change. So right now, we're seeing a real focus on the need for more dining space in schools. They used to be looking to us for playground shelter – but these days, increasingly, they are using our products to seat children for lunch.
At the 2019 SAAS, we were hearing about schools where they were having to do four or five sittings for lunch, running from 11.30 to 2pm – that blew my mind! We're asking the same question about capacity this year, and it's clearly still an issue.
And why are your products a good way to solve the dining space problem?
From a budgetary point of view, we're about a third of the cost of a traditional extension build or prefabricated building – so that's obviously attractive. Then there's timescale; from commissioning to actually being able to use the space is considerably quicker, too.
It's not an aesthetic decision, usually, even though our solutions look really good; it's about saving time, and money.
So… we're talking al fresco dining? In the UK?
Yes, but these are incredibly flexible spaces. So, our Cantabria range has an electronic roof that opens and closes with the weather – in essence, it's taking a product that was designed for the hospitality industry and bringing it into education.
It serves the same purpose, in that it allows you to cover more diners at any given time, but here your diners are pupils, not customers; and schools are being really creative in using the space for multiple purposes, not just for serving lunch.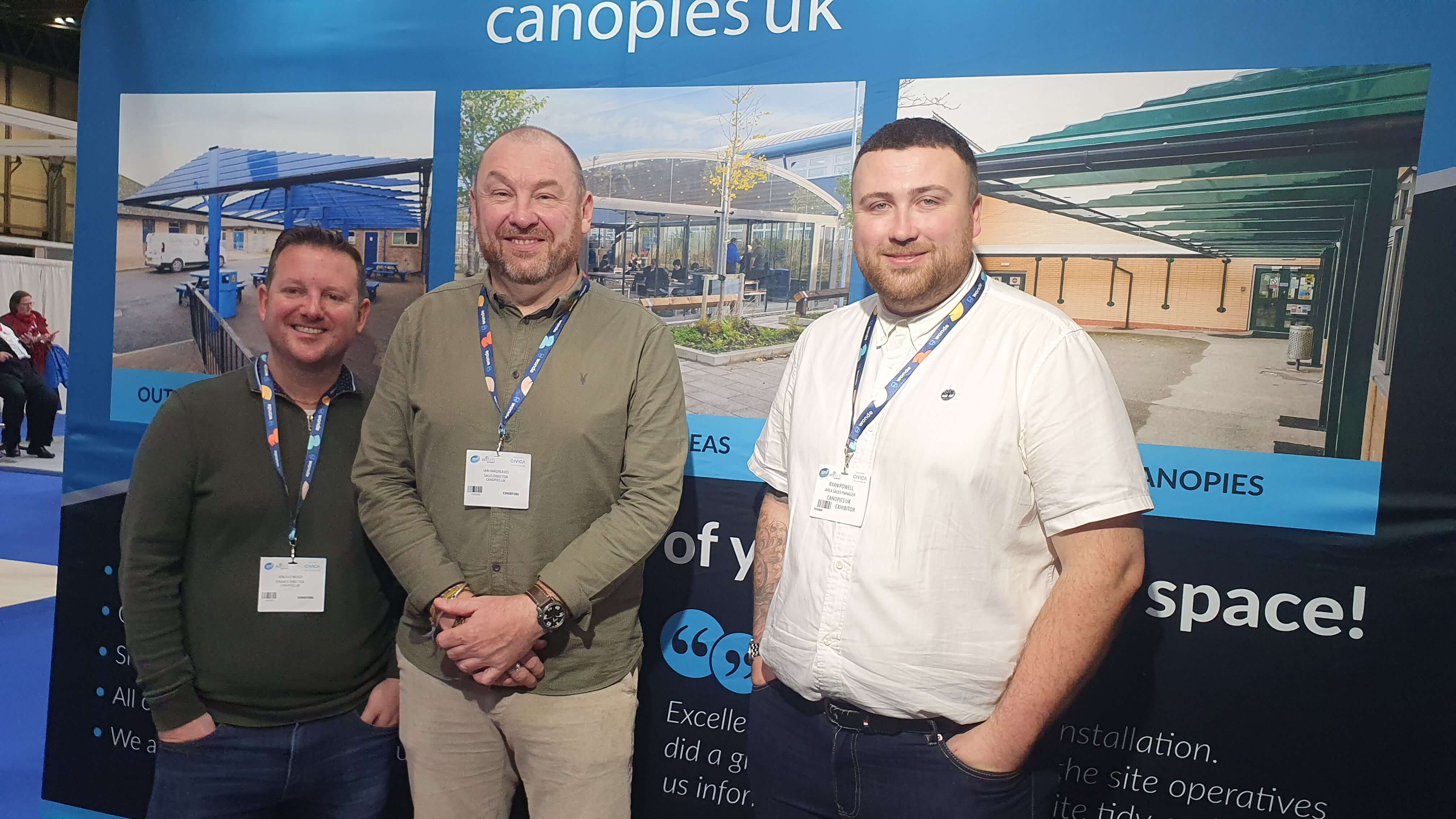 What is it that sets your products apart from other solutions out there?
The uniqueness of our wall-mounted shelters, such as Connekt, is the cantilever design, so that there are no posts required. That means that every bit of space covered is safe and usable. And with the Cantabria, as I said, the advantage is in the different ways the space can be used, according to each school's needs.
How long does it generally take to get from a confirmed order to a completed installation?
It depends on the product – if it's Connekt, then we have to do site specific calculations to assess how strong the parts need to be, and what depth is required for the foundations; but even so, we can normally be on site installing within five weeks.
Our larger, Cantabria range, from order to install, is still only around 13-14 weeks. And if it's a straightforward project, we'll typically only be on site for two to four days for Connekt, and perhaps two to three weeks for Cantabria.
For a traditional build, from commissioning to being able to use that space, you're looking at a minimum of six months. There's no need for planning permission, either, although some authorities may ask schools to make an application anyway. Generally, all we have to do is make sure Building Control is happy – and they love the structures, because they don't interrupt anything.
So it's quick, it's economical – and it solves a very real problem!
Yes. As I say, it's about a third of the cost of a traditional build or portacabin, and it means schools can solve their dining capacity issues and benefit from a multifunctional space, too. Some even rent out the Cantabria for additional income.
I'm not surprised you're looking forward to talking to visitors at the show…
Definitely! And I'll be trying to get along to some of the presentations, too. It's a learning opportunity for us. Really understanding the detail of what the people we are trying to help are having to deal with, every day – hearing what's important to them, even when it has nothing to do with what we are offering – makes such a difference. It's about knowing our customers' world.
Explore Canopy UK's range of solutions for schools at the company's website, email info@canopiesuk.co.uk or call 01254 777 002.