At a glance
Thin, compact, powerful laptop
Super-fast processor for multitasking with ease
Stay connected anywhere with 4G and WiFi compatibility
Extensive security and data protection
Compatibility with wider Samsung ecosystem
Long-lasting battery to power through the day
---
For education today, it's essential to have the right technology in place that fits the needs of both teachers and students.
Teachers want technology that's quick and reliable, while secondary students need devices that are strong and simple to use.
Choosing the right solutions can help cut teachers' and students' workloads, improve efficiency, and support inclusion – ultimately driving better educational outcomes.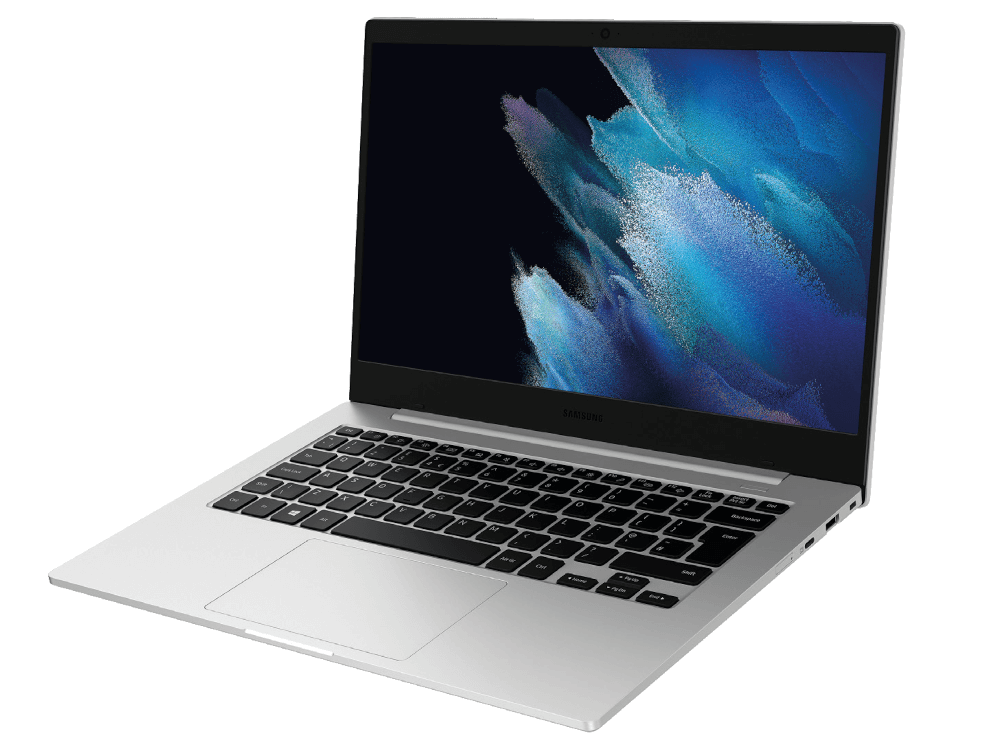 Rather than remaining tethered to our desks – or kitchen tables – the time has come for a laptop that enables mobility to deliver true flexibility.
The new Samsung Galaxy Book Go makes it possible to teach and learn from wherever you are.
Packed with innovative features, the Galaxy Book Go is built to keep up with you without compromising on performance and keeps you connected all day with both Wi-Fi and 4G Connectivity (4G network and connection required).
Designed to slot nicely into any school bag, the Galaxy Book Go features a 14" full-HD display, so you can see work in stunning, high-definition colour.
And with the 180° flat hinge, you can fold the screen flat out on the desk, making it easier to gather around and collaborate with teachers and classmates.
Meanwhile, the long-lasting battery and speedy 2nd Gen QualComm Snapdragon 7C processor powers students and teachers all through the school day and beyond.
The Samsung and Microsoft partnership sees the Galaxy Book Go built with a Windows 10 Pro operating system.
Extensive security, powerful tools, and flexible management helps keep your files and data safe in the new world of learning, letting you quickly find what you need, when you need it.
Security is top of the agenda for any educational institution. The Galaxy Book Go includes built-in protections for your data, equipment and people, even on lost or stolen devices.
Essentials like firewall, secure boot and file-level information-loss protection come as standard.
And if you've got more than one Samsung device? The Galaxy Book Go seamlessly connects to other Samsung products to provide a smooth experience between devices.
And you don't need to worry about multiple wires getting tangled in your bag with the compact USB-C charger that can be used to charge any compatible Samsung device.
Meet the needs of education today with the Samsung Galaxy Book Go, with payment terms available for schools.
Visit your nearest Samsung Experience Store to explore our range and our Business Solution Experts will be on-hand to help you find a tailored solution to your education needs.
Alternatively, you can arrange a one-on-one online session or arrange a visit to your workplace.
Get in touch on 0333 344 1916 or email samsungexperiencestores@prs-and.com. You can also request a call back from one of our Business Solutions Experts.
---
Verdict
Good-looking silver shell
Relatively tactile and quiet keyboard
Lightweight
Epic power and performance
Large trackpad, which provided smooth tracking
The compact laptop you can take anywhere
Upgrade if…
You're looking for a very affordable laptop that is suitable for everyday tasks in the classroom or at home, the Galaxy Book Go is the ideal companion for education on-the-go. The speedy processor allows for multi-tasking with ease, and the long-lasting battery keeps up with the demands of learning.
---
To find out more, contact 0333 344 1916 or samsungexperiencestores@prs-and.com.